Anckorage was at the Synthfest 2015 in Nantes. This great event organisation was from PWM
Ther were a lot of incredible gears: MOS-Lab, PPG, Prophet-5, Roland system 700, Moog (modular, Source, etc.), recreations of ARP 2600, Korg, Arturia, Eowave, Doepfer, and a lot of modulars from all the most famous providers.
That was the place to be for all synth addicts !
And some incredible people were here, demonstrating and showcasing: Yves Usson (designer of Arturia Minibrute), Marc Sirgyu (Eowave), Eric Mouquet (Deep Forest), Frederic Rousseau (Vangelis and Jarre partner), Michel Geiss (Jarre partner), Bernard Szajner (laser harp inventor), Sebastien Moumon (MOS-LAB), Francis Rimbert, and much more…
Anckorgae was ther on stage on Friday with NaniSound and to demonstrante the Continuum together with SpringSound.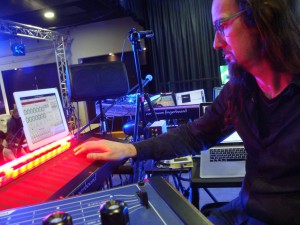 A nice collection of pictures from Lionel Palierne is available here.